Linking up with
Ashley
for Friday Letters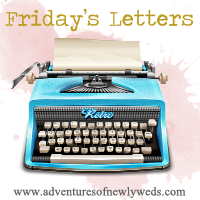 Dear Tim- I know you are still not feeling quite like your usual self, and what happened earlier this week was scary as hell, however you are a grown man, please start acting like it instead of making me feel like I'm taking care of 2 babies right now. Its strep, not a heart attack. I love you but cut the crap and stop with the "ohhhh but I don't feel good ( you felt good enough for a bike ride), or can you give me my medicine, I'm too weak to move ( yet you went to burger king and got yourself lunch yesterday while Ethan and I were out). Seriously enough...
Dear Ethan- Please slow down on this growing up thing. Its starting to scare me some. Your trying so hard to walk, have given up interest in milk ( except for the one bottle I get you to drink without a fight) and look more and more like a little boy instead of a baby each day. Slow down!
Dear Work- I need a raise, STAT. The little paychecks I keep getting from you guys isn't cutting it anymore.
Dear Tricare and Optima Insurance- I broke my elbow months ago, and yet you guys aren't paying the bill. Thats why I have insurance so I can pay little bits, not hundreds of dollars at a time. Get it together and pay the hospital so they will leave me alone, and then I will leave you alone.
Love,
Shannon